I found this great article at
www.Avery.com
in the projects section. I highly suggest reading it because it has wonderful tips and resources for your business.
Simple Tips for Greener Living (via Avery.com)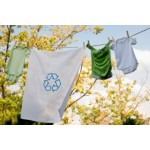 Living an eco-friendly lifestyle can help you do your part for the planet, but we can't always shell out the bucks for energy-efficient appliances and cars or get the latest in green gadgets. So how else can you put those good intentions to work? Even taking small steps can help reduce your impact on the environment. Here are some ideas:
Get earth-wise with office supplies

Make an easy transition to be more eco-minded in your home or office by gradually replacing your current supply inventory with products such as recycled copy paper, biodegradable pencils and other eco-friendly office supplies.
- Mail and ship with labels that work for you and the environment.
Avery EcoFriendly Address Labels
and
EcoFriendly Shipping Labels
are made of 100% recycled material and processed chlorine free, and both the label paper and package are also recyclable as part of paper waste.
- Get organized and leave a smaller footprint on the environment with customizable
Avery EcoFriendly Dividers
. You can count on the same great quality product, now made with 100% post-consumer recycled paper.
- Designate containers for recyclable paper trash with this
free template
. click on Read More to continue...
Be green when you clean

Many household cleaning products are filled with harmful chemicals and additives that can contribute to indoor air pollution.
The Green Guide
from National Geographic provides these tips when choosing cleaners:
- Avoid products that make unsubstantiated and vague claims such as "natural," "organic" and "ecologically friendly."
- Choose products that list every ingredient by name, or at least tell you what's not inside, such as "no ammonia," "no chlorine" and "no sodium lauryl or laureth sulfate."
- Look for products packaged in post-consumer recycled plastic or cardboard.
Choose to reuse

By reusing existing materials, you can cut down on waste and support sustainability.
- Give new life to old cardboard boxes—
Avery Shipping Labels with TrueBlock™ Technology
make it easy to reuse boxes for shipping or storage. Labels completely cover up existing markings or old labels underneath, so your information stands out.
- If you thought cardboard boxes are all work and no play, think again—they even made it into the National Toy Hall of Fame. Big boxes from large appliances provide kids creative ways to play.
- Recycle those Styrofoam packing peanuts from your packages. Contact the Peanut Hotline, the national reuse program for plastic loose fill—call 1-800-828-2114 or go online at
loosefillpackaging.com
to find a drop-off center near you.
Think eco when on the go

Even when you're out and about, simple measures can help you be more earth-friendly.
- Idle ways don't pay. Leaving your car engine idling wastes gas, according to thedailygreen.com, and every gallon of gas you burn not only produces 19 pounds of carbon dioxide—it also adds up to rougher wear on your vehicle.
- Make your outings more efficient by grouping small trips together. You'll not only help save the planet, you'll save time, too!
- Shopping with reusable tote bags trumps paper or plastic, but they won't do you any good sitting at home. Keep a few bags handy inside your car so you won't get caught empty-handed. Check out this
free eco tote template
just in time for Earth Day.
Take a step in the right direction and do what you can to be eco-friendlier. Any size step forward can help contribute to the greater good of the environment.

Other Ways to be green:
*this is not a paid endorsement for Avery.com. Please read my TOS for more details.